Fact Sheets
,
Resources
|
December 1, 2019
DLL Professional Development Funding
Efforts by Early Edge California with support from Assemblymember Reyes, the Legislature, and the California Department of Education (CDE), resulted in a one-time $5 million allocation in the 2018 California state budget to provide educators with professional development specific to Dual Language Learners (DLLs).
The Need for DLL Specific Professional Development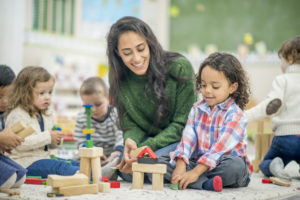 Most early educators in California do not have DLL-specific professional development
Without specific training, teachers are not adequately prepared to teach DLL children.
60% of California children 5 and under are DLLs
This professional development funding will:
Train more early educators and caregivers to effectively support DLLs and their families,

Strengthen and expand the current DLL-specific training infrastructure in California, including online options,

Increase DLL-specific higher education coursework, and

Promote a birth to third grade professional development model for teachers serving DLLs and English Learners.
Funded Projects
Investing in training to build the capacity of early educators to meet the needs of DLLs and their families will help close the achievement gap in the early years and reduce the need for later intervention.
Click on each logo below for information on the DLL Grant Recipients: