Reasons to join the Early Edge California team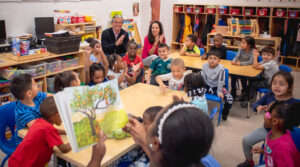 Apply your skills to improving Early Learning in California.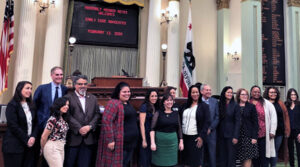 Join a leading advocacy organization with a proven record of results.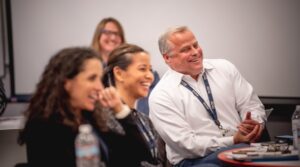 Work with a team
committed to Early Learning. 
Job Openings
Please follow us on LinkedIn to get the latest career updates. 
Policy Analyst
Status: Full-Time; Exempt
Location: Los Angeles, CA or Sacramento, CA (Hybrid-Remote)
Salary Range: $65,000-$78,000
ABOUT EARLY EDGE CALIFORNIA
Founded in 2003, Early Edge California (Early Edge), a project of New Venture Fund, is a statewide policy and advocacy organization that works collaboratively with policymakers, education leaders, families and community leaders to promote policy reform and early learning investments to expand early education program access and support efforts for high-quality teaching and caregiving for all children from birth to age 8. 
Over the years, Early Edge has successfully advocated for groundbreaking early childhood policies including the enactment of universal preschool through the expansion of Transitional Kindergarten programs to also securing funding to improve Early Learning programs throughout the state. Early Edge collaborates with thought leaders from across the state to advocate in the best interest of our youngest residents including those children and families most in need such as English language learners and dual language learners, to ensure all young children are happy, healthy, engaged learners by their first day of school and every day thereafter. To learn more about Early Edge, please visit www.earlyedgecalifornia.org and for more information on New Venture Fund, please visit www.newventurefund.org.
POSITION OVERVIEW
Early Edge is seeking a Policy Analyst to join our 9-person team to assist with research, analysis, writing, and overall execution of Early Edge's policy and advocacy agenda. This is a great opportunity for a dynamic, flexible and proactive professional who is research-driven and passionate about early care and education issues. The Policy Analyst will leverage their analytic, relationship-building and policy strategy skills to improve and advance California's Early Learning system. Working in a highly collaborative team environment the Policy Analyst will work in partnership with the Policy Team and other Early Edge staff to help advance the following priority areas: 1) Monitor and evaluate the implementation of Universal Transitional Kindergarten efforts; 2) Advocate for a qualified, well-compensated and professionally-trained Early Learning workforce; and 3) Elevate need for  high-quality programs with developmentally appropriate instruction and childcare standards for infants and toddlers.
Key Responsibilities
Under the direct supervision of the Senior Policy Analyst and with additional guidance and support from Early Edge's senior leadership and consultants, the Policy Analyst's key responsibilities will include the following:
Assist with development and execution of Early Edge's local and state advocacy agenda

Research and stay up-to-date on early childhood policies and legislation and report relevant findings back to the internal team 

Conduct analysis and support with drafting of organizational materials such as legislative fact sheets, policy briefs, support letters, meeting and event note-taking, and newsletter content

Cultivate relationships and build coalitions with partner organizations and external stakeholders across Early Edge's priority areas

Provide event planning and facilitation support for convenings with teachers, parents, and Family, Friend and Neighbor providers

Support with organization representation by serving as spokesperson for public comment at legislative hearings or program site visits with early education agency and government officials

Support Early Edge program team members with grant proposal and report development 

Provide other support as needed to the Early Edge Policy Team

Work on other projects or assignments as needed
CANDIDATE QUALIFICATIONS & DESIRED TRAITS
2+ years of relevant professional, educational or volunteer experience, ideally in an education, nonprofit, or legislative/community engagement setting

Bachelor's Degree

Comprehensive and detail-oriented research and analytic skills

Strong persuasive and technical writing skills with the ability to present complex information

Excellent interpersonal skills including verbal communication, presentation and facilitation skills

Comfortable networking and building relationships with diverse stakeholder such as policymakers, funders, families and other Early Learning stakeholders

Project management skills including the ability to meet deadlines and effectively handle a variety of time-sensitive tasks and competing priorities with minimal supervision

Proactive nature and eagerness to learn with a growth mindset

Shared belief in Early Edge's mission and a commitment to improving the Early Learning space
Nice-to-Have Qualifications Although Not Required
Expertise in one or more of Early Edge's Early Learning policy priority areas

Understanding and knowledge of early childhood policy in California

and general early learning research knowledge

Understanding of the legislative process, state budgets, and policy analysis and development

Understanding of the role of advocacy in advancing a policy agenda

Ability to navigate politically sensitive conversations and situations

Professional Early Learning teaching experience

Strategic thinking mindset 

Master's Degree in public policy, public affairs or administration, education, or a related field

Fluency in English and Spanish
This is a full time, exempt position, and we are seeking a candidate who is within commuting distance of the greater Los Angeles or Sacramento regions to be able to regularly participate in in-person team meetings or stakeholder events. Currently, Early Edge has a hybrid-remote/office schedule, with semi-monthly in-person meetings and activities. Occasional additional travel outside of the home-based area may be required for event and meeting support. 
COMPENSATION & OTHER BENEFITS
The annual range for this position is $65,000-$78,000 and is dependent on experience. Early Edge also offers an excellent benefits package which includes full health, vision, dental, life insurance, matching 401K, generous time off policies and dedicated professional development funding and encourages and supports growth opportunities for all full-time staff. 
VACCINATION FOR COVID-19 POLICY
To center the safety and well-being of its employees, Early Edge requires that any employee who is required to conduct in-person activities for their job must be fully vaccinated against COVID-19 within four weeks of their start date. Requests for accommodations may be sought and approved in accordance with the law by contacting Human Resources.
APPLICATION INSTRUCTIONS
Please submit a cover letter and resume, combined into one document. In the file name and email subject header, please write the name of the position you are applying for and your last name: e.g. "Policy Analyst_Ramirez."
We invite you to utilize your cover letter as an opportunity to:
Tell a story that illuminates your interest in early education and Early Edge's mission

Share how your background and experience align to this position
Please email your application materials to [email protected] by the Priority Application Deadline of Friday, January 13, 2023.
Additional questions about the role or interview process can be directed to Vanessa Ramirez, Recruitment Consultant supporting this search at [email protected].
HIRING STATEMENT
Early Edge California (Early Edge) is a project of the New Venture Fund (NVF), a 501(c)(3) public charity that incubates new and innovative public-interest projects and grant-making programs. The New Venture Fund is committed to attracting, developing and retaining exceptional people, and to creating a work environment that is dynamic, rewarding and enables each of us to realize our potential. The New Venture Fund's work environment is safe and open to all employees and partners, respecting the full spectrum of race, color, religious creed, sex, gender identity, sexual orientation, national origin, political affiliation, ancestry, age, disability, genetic information, veteran status, and all other classifications protected by law in the locality and/or state in which you are working.