Consortium for English Learner Success Convening Summary
Last Tuesday, August 13, Early Edge co-led the Consortium for English Learner (EL) Success Convening. Our partners included the Alliance for a Better Community, Californians Together, Advancement Project, EdTrust West, and others.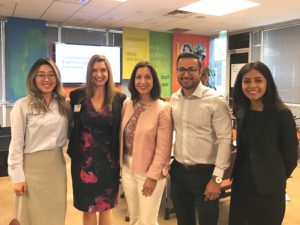 The Consortium for EL Success is composed of nearly 100 civil rights, policy, research, philanthropic, educator, and community-based organizations working to strengthen the prosperity of California and Los Angeles County by advocating for an educational system that fully supports the needs and embraces the assets of English Learner students and Dual Language Learners (DLLs). Early Edge is a member organization of the Advisory Task Force for the Consortium for English Learner Success. The Consortium released their 2019 Policy Priorities, which can be found here.
The purpose of the convening was to bring together education leaders to discuss the 2020 Policy Agenda and identify opportunities to partner in carrying out the agenda over the next 18-24 months. The Consortium 2020 Policy Agenda highlights barriers to the success of DLL and EL students and offers actionable policy and legislative recommendations to remove those barriers.
Chief Deputy to the State Superintendent of Public Instruction (SSPI), Lupita Cortez Alcalá, who is a former English Learner herself, opened the meeting by speaking about the state's commitment to improving educational opportunities and outcomes for English Learners. She shared the final recommendations developed by the SSPI Dual Language Instruction Transition Team, a statewide collaborative of stakeholders led by the California Department of Education in which Early Edge participated. 
Early Edge Senior Policy Analyst, Carolyne Crolotte, served as a panelist on workforce issues impacting DLLs and ELs. She shared the importance of ensuring an equipped Early Learning workforce to meet the needs of DLLs beginning in early childhood, as well as key examples of districts who are currently supporting the Early Learning workforce to meet the needs of DLLs, such as LAUSD, Westminster, and Fresno Unified School District.
The convening was an example of bridging the Early Learning and K-12 systems. It serves as a model for bringing policy, research, and practice together to identify local- and state-level priorities for English Learners across California. We were also joined by the California Teachers Association president E. Toby Boyd, Association for California School Administrators president Linda Kaminski, CDE English Learner Support Division Director Veronica Aguila, and Los Angeles Unified School District board members Monica Garcia and Kelly Gonez, among other state and local leaders.