Blog
|
August 20, 2019
|
Early Edge California
Early Edge California Joins Governor and Attorney General in Opposing Trump's "Public Charge" Rule
California Governor Gavin Newsom and Attorney General Xavier Becerra hosted a press conference at the State Capitol last Friday, announcing the state's efforts to stop the Trump Administration's Public Charge rule. Under this new rule – which unfairly targets vulnerable immigrants who have come to the country legally – officials will be able to deny permanent residency to immigrants who have used various public benefits for which they are legally eligible, including Medicaid, Social Security, housing, and nutrition programs. Policy Analyst Anna Ioakimedes attended on behalf of Early Edge to join state interest groups and advocacy organizations in supporting the Governor and Attorney General.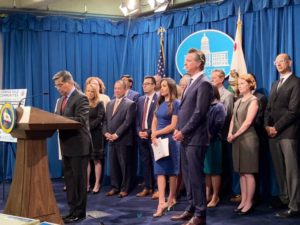 Becerra leads a coalition of Attorneys General in filing a suit against the Trump Administration in order to stop the rule change from taking effect. "This vile rule is the Trump Administration's latest attack on families and lower income communities of color," said Attorney General Becerra. "It will harm our communities, schools, and workplaces by weaponizing essential healthcare, housing, and nutrition programs. We will not stand idly by while this Administration targets programs that children and families across our state rely upon," Becerra stated. Mayra Alvarez, President of The Children's Partnership, commented on the rule's chilling effect: "It's innocent children who will bear the brunt of it."
In a press release, the Attorney General's Office noted that "Thirty-nine percent of child care and early education providers in California—81,000 people—are immigrants. Children rely on these providers for care and education, and parents require these services to maintain their own employment. Losing child care workers will be disruptive for the children and families they help and for the economy." 
Early Edge released an official statement last week in strong opposition to the Trump Administration's expanded "Public Charge" rule and will continue to advocate for young children and families in our state.