Blog
|
June 11, 2020
|
New America
How COVID-19 is Impacting California's DLL-focused Professional Development Program
By Amaya Garcia
The final blog in our series about California's statewide investments in DLL-specific professional development explores how COVID-19 has impacted plans to expand the DLL Professional Development grant program and caused current grantees to shift the delivery of professional development from in-person to virtual. We thank New America for their partnership and collaboration on this series. Click here to read the previous post in the series.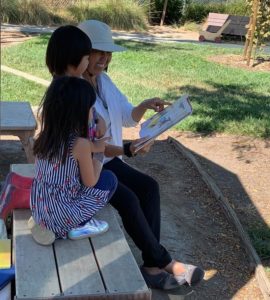 Over the past two months, in partnership with New America, we have been highlighting professional development programs that are aimed at better equipping California's early educators to meet the needs of dual language learners (DLLs) and their families. Funded by a one-time $5 million state investment, these programs have helped elevate best practices statewide and boost the skills of educators hungry for effective strategies.
Together, the six funded programs have reached over 1,100 early childhood educators using both virtual and in-person training sessions. Training has covered topics such as oral language development, supporting DLLs' home languages, family engagement, and research-based strategies for boosting DLLs' language and academic development. Some programs also offer coaching to help teachers receive feedback and guidance on integrating strategies into their practice. And, importantly, one of the funded projects was designed for higher education faculty to support integration of DLL content into the curriculum used by the California State University and California Community College systems.
A major theme from the blog series was a pressing need for a sustained investment to help build a comprehensive professional development system that includes DLL-specific training. Early education advocates in the state were hoping to capitalize on the momentum and helped craft a bill to expand the program. However, with the current public health crisis, funding priorities have shifted to address the fallout from COVID-19 and budget cuts are already looming.
"We pivoted to address COVID-19 and e-learning, specific for DLLs and ELs from birth to 12th grade, and have also added in support for resources for parents who are playing an even more critical role in their child's education at this time. We are working to ensure that these resources are available in parents' primary language," said Carolyne Crolotte, senior policy analyst at Early Edge California. Ultimately, the revamped bill did not make it to a hearing due to shifts in the legislative cycle as the state works to address the pandemic. Early Edge California is working with other advocacy groups, including Californians Together, the California Association for Bilingual Education (CABE), and Children Now, to ensure that funding is allocated to meet this pressing need.
Grantees have also needed to shift their approach to ensure that teachers retain access to professional learning from their homes. Maria Ceballos Tapia who leads the Language Learning Project, which is working with teachers and caregivers in California's Central Valley, shared that the final two training sessions (out of five total) were conducted over Zoom. The sessions went very smoothly, says Ceballos Tapia, and they found that participants were more talkative in the virtual small groups compared to the in-person sessions.
In addition, Ceballos Tapia and her team had to shift their plans for the project's culminating events: four regional training sessions to launch and distribute a toolkit on best practices for DLLs. These sessions were converted into a webinar, scheduled for June 10, that will ultimately reach a larger number of participants than originally planned. Each participant will be mailed a toolkit ahead of the webinar.
In reflecting on the changes, Ceballos Tapia noted that they never doubted that they would be able to deliver the services. "The communities are so committed to the work with DLLs that they want to receive the training no matter how," she said. "We know that we are going through a health crisis, but it has taught us a lot of new ways to reach people that we would not have even considered."
At a recent virtual convening of the six DLL PD program grantees co-hosted by Early Edge California and the California Department of Education, participants outlined the challenges posed by distance learning. The digital divide was top of mind, with gaps in access to broadband and devices equipped for video lessons and online learning platforms being named as barriers to DLLs' learning at home. In addition, communication between teachers and families is more essential than ever, yet there are language barriers that can hamper efforts to keep parents engaged and informed about their children's education. Early learning teachers, many participants noted, are also poorly equipped for distance learning and require additional training on how to adapt their instruction.
There is hope that the experiences of current grantees in shifting their programming will convert into lessons that can be used to address needs as they arise and implemented quickly to help shore up teachers and early childhood programs.
The need for a statewide effort to help ensure that early educators have access to the professional learning they need to effectively teach DLLs has only been magnified by COVID-19 closures. Now more than ever, DLLs and their families will require enhanced supports and deliberate strategies to foster communication and learning through distance learning.
"COVID-19 and the resulting distance learning has exacerbated existing educational inequities, disadvantaging low-income families, including those of diverse language and cultural backgrounds. We need to work to ensure that DLLs don't fall further behind," said Patricia Lozano, executive director of Early Edge California.