Blog
|
June 14, 2023
|
Multilingual Learning Toolkit, World Forum Foundation
Early Edge's Executive Director Attends World Forum on Early Care and Education in Panama City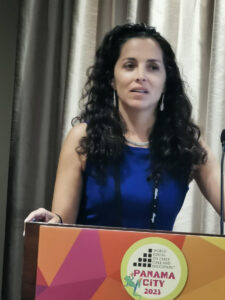 Last month our Executive Director Patricia Lozano traveled to Panama City for the 2023 World Forum on Early Care and Education hosted by the World Forum Foundation, an organization which promotes an on-going global exchange of ideas on the delivery of quality services for young children in diverse settings. The multi-day event was an opportunity to connect with Early Learning professionals and advocates from more than 80 countries to share inspiration and information on issues impacting children and families worldwide. 
During the event, attendees engaged in work and dialogue to impact the futures of young children and their families including through the attendance of a variety of presentation sessions. Patricia presented in the conference session, The Impact of Public/Private Partnerships: Promoting Inclusion, Diversity, and Supports for Young Learners, alongside co-presenters from Ghana, Malaysia, and Zimbabwe. She shared about the Multilingual Learning Toolkit and the recently signed Early Edge-sponsored legislation AB 1363 (Rivas) which has now established a standardized process for identifying Dual Language Learners in state preschool classrooms in California, both garnering great enthusiasm and interest from attendees. 
The event was a wonderful opportunity to learn about new innovations and hear diverse, global perspectives to inform the work we do to support young children in their learning experiences and the adults who support them.