Videos
|
January 12, 2021
|
Early Edge California
New Video Series! Storytime with Early Edge California and Friends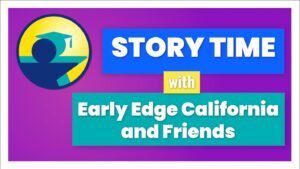 Watch our latest video series, Storytime with Early Edge California and Friends, where members of California's Early Learning community read their favorite children's books in virtual storytime for young children and their families who are at home during the health crisis. The series will include stories read in multiple languages.  
View Storytime Series
We encourage you to utilize these resources to support the young learners in your life and to share the video series with your colleagues and the families you serve. 
Stay tuned for more videos throughout the summer!