Now Available: New Resource Hub Gathers Tools to Bring California's English Learner Roadmap to Life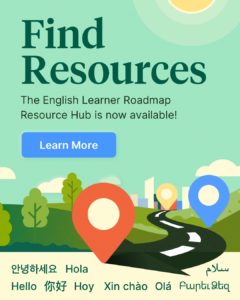 As California leads the way to protect our families and uphold our values in response to COVID-19, it is more important than ever for us to come together and share resources to ensure all of our students, particularly particularly Dual Language Learners (DLLs) and English learners (ELs), thrive. 
Californians speak dozens of languages, and this diversity contributes to the best parts of our state – a vibrant culture, innovative spirit, and strong economy. The same is true in our schools, where 1 in 5 public school students is learning English in addition to the language(s) they speak at home. Everyone involved in our schools has a role to play to ensure equity of access and achievement for our Dual Language Learners and English learners. Fortunately, California's English Learner Roadmap (EL Roadmap) provides a clear path to make this happen.
In collaboration with six other organizations committed to advancing equity in education, Early Edge California has launched the English Learner Roadmap Resource Hub to translate vision to action across our state. We're proud to partner with leading advocates to advance the EL Roadmap's vision of honoring equity, ensuring meaningful access, and embracing the diverse population of our students. Together, we will harness the power of language to prepare our students to participate in a global, diverse and multilingual world, thus ensuring a thriving future for California.
The new Resource Hub gathers resources from across the field to help key audiences – including families, educators, administrators, teacher educators and policymakers – work toward effective implementation of the EL Roadmap. Leveraging the strongest thinking and tools, we will create a future where all Californian students will receive equitable opportunities starting from early childhood. Visit www.elroadmap.org to find the latest resources from leading organizations across the field.
Please contact [email protected] to submit additional materials to the Resource Hub for consideration.