California's College Savings Plan Offers 2020 Matching Grant Program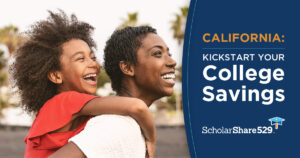 ScholarShare 529, California's College Savings Plan, is offering the 2020 Matching Grant Program aimed at helping families make the most out of their college savings. Studies have shown that even children with college savings of less than $500 are three times more likely to enroll in higher education, and four times more likely to graduate, than those without a college savings account.*
Now is the best time for families to begin saving for their children's future higher education costs. ScholarShare 529 helps families get started with a matching grant of up to $225 when they open an account.
MATCHING GRANT BENEFITS:
A dollar-for-dollar match up to $200

Another $25 for establishing a monthly automatic contribution plan of $25 or more

Funds can be used at universities, community colleges or trade schools, and for other approved educational expenses
ELIGIBILITY REQUIREMENTS:
Families must have an annual income of $75,000 OR LESS to be eligible

Account must be opened by a parent or legal guardian

Beneficiary (future student) must be 14 years of age or younger

Parent/legal guardian and beneficiary must have a valid Social Security Number or federal tax ID number
Visit ScholarShare 529 for more details and complete terms and conditions. 
Watch ScholarShare 529's Online Educational Webinar covering details about ScholarShare 529, as well as the Matching Grant Program. Webinars are scheduled twice a month for the remainder of 2020.
---
*Source: https://www.sciencedirect.com/ science/article/pii/S0190740912004379 (Elliott, W., Song, H-a, & Nam, I. (2013). Small-dollar children's saving accounts and children's college outcomes by income level. Children and Youth Services Review, 35 (3), p. 560-571.)