Blog
|
February 13, 2020
|
Early Edge California
Addressing California's Early Learning Workforce at the 2020 PACE Conference
Our Executive Director Patricia Lozano joined the Policy Analysis for California Education (PACE) Conference in Sacramento last week to talk about quality programs and our state's Early Learning workforce with Dr. Deborah Stipek, Judy Koch Professor of Education and Stanford's School of Education Faculty Director, PACE, Meera Mani, Director of Children, Families, and Communities at the David and Lucile Packard Foundation, and Scott Moore, CEO of Kidango. The presentation "Improving Quality in Early Childhood Education" led by Dr. Stipek, addressed the question, "How can the system support the workforce to improve quality–including qualifications, ongoing support, and compensation?"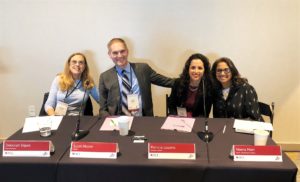 For all panelists, the priority was clear: quality matters. At Early Edge, we view Early Learning teachers as key to quality. The individuals who spend all day with our children in the classroom are critical to providing them with high-quality experiences. There is strong evidence of the powerful benefits of positive, nurturing relationships between young children and their teachers and caregivers. 
Patricia Lozano shared about the economic stress that Early Learning teachers face, and how it is compounded by the fact that they seldom receive the professional support and benefits–such as health and retirement benefits, paid sick leave, or paid time off for planning or professional development–that are available to TK-12 teachers. 
She underscored the importance of uplifting the teacher voice and bringing it to the table where policy decisions are made. She also emphasized removing the barriers Early Learning teachers face in attaining higher education and their need for ongoing professional development and support. 
"TK teachers who work with 4-year-olds get these supports, but pre-K teachers who work with 4-year-olds, don't," Patricia explained. "This is unfair to our Early Learning teachers and it ultimately impacts our children."
Other topics brought up during the panel discussion focused on the varying quality standards of ECE programs in California, continuous quality improvement, curriculum, and assessment. View the presentation slides for more details.
This year's conference hosted nearly 300 California policymakers, researchers, and education leaders for a discussion on new research and approaches to improving educational outcomes for California's students, from early childhood through higher education.