Blog
|
February 13, 2020
|
Early Edge California, American Institutes For Research, Advancement Project CA, First 5 California
First 5 CA Presents Initial Findings from Its Dual Language Learner Pilot Study at Sacramento Hearing
Early Edge California participated in First 5 California's hearing for the release of initial findings from its ongoing Dual Language Learner Pilot Study, a project being conducted by American Institutes for Research (AIR). Our Executive Director Patricia Lozano was invited to speak on a panel at the hearing where she reacted to the report alongside fellow dual language learner (DLL) champions. 
During the hearing, Patricia shared her thoughts about the ways in which the study's report aligns with the new DLL policy platform Early Edge has written in partnership with Advancement Project California:
The report identifies the lack of DLL-specific coursework requirement in Early Learning and Care teacher preparation as a major barrier to having a qualified and trained workforce to support and meet the needs of DLLs. A key recommendation from our DLL Policy Platform is to "Revise the Child Development Permit to include explicit competencies for serving DLLs." 

The report mentions the

$5M 2018 state budget allocation for DLL-specific Professional Development

. Through the grant's evaluation we are supporting, we see that this training is having an important and powerful impact on teachers and administrators across the state; it improves their confidence and provides them with strategies to support DLLs and their families. We are also learning from the grantees and the participants that there's still a great need in the field for additional funding, which also aligns with AIR's findings in the DLL Pilot.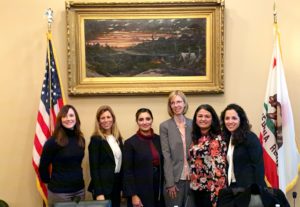 Initial findings from the First 5 California-funded Dual Language Learner Pilot Study indicate that overall beliefs about bilingualism and policies in place to support dual language learners are shifting in a direction that promotes the development of young DLLs' bilingualism. However, there are still systemic challenges that limit implementation of high-quality instruction for DLLs. This first research brief from the statewide study of the learning contexts, supports, and outcomes for California DLLs and their families summarizes the perspectives of county-level leaders on the context, challenges, and guidance for DLL caregivers in their counties, which in turn impact practices in the classroom. The brief also offers examples of successful practices to support DLLs in their communities and concludes with implications and next steps for the study.
Read the full Pilot Study Brief
Thank you to First 5 CA and American Institutes for Research (AIR) for sharing these findings from the Pilot Study and your continued work to uplift dual language learners in our state.