Early Edge California's 2020 Reflections
It's been a busy year at Early Edge California — like many organizations, we had to shift gears early on and get to work with a new roadmap in hand. Heading into the final weeks of 2020, our team recently reflected not only on what we have accomplished, but also on what we learned from this year. Read about the "aha!" moments we'll be taking into 2021.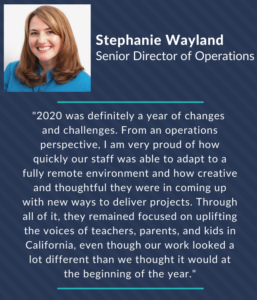 Recalibrating: Find Your North Star
When COVID-19 cases began to surge and stay-at-home orders brought life as we knew it to a standstill in March, there was clear consensus at Early Edge that our top priority was supporting our Early Learning community through this difficult period so they could best support the kids in their classes and in their care. With this focus to guide us, everything began to fall into place. We immediately went to work to listen to California's Early Learning teachers and child care providers, so we could learn about their experiences and their needs to determine what would help them most in the moment.
Be Flexible and Willing to Adapt
We quickly learned that creativity and flexibility would need to be at the heart of our work in a year filled with unpredictable moments. When our team came together in those first weeks of the crisis to determine how best to support children and teachers through the pandemic while also supporting our existing priorities, we stayed open to new ideas. We decided to try new tools and resources to support our work. And, we devised new products to meet new needs.
Communications Work is Key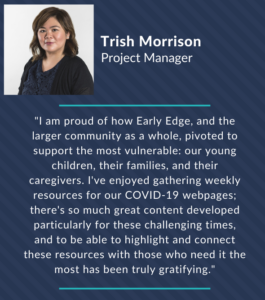 Communications have always been central to Early Edge's work, but this year, it was especially critical to lean into our communications efforts to support the needs we were hearing from California's Early Learning community. 
We looked at how we could optimize the communications channels we already had in place. Our biweekly newsletter shifted to a weekly format and provided the most relevant, up-to-date information, guidelines, and resources that teachers and providers needed to get through the week. Our website evolved to serve as a hub for curated COVID-19 resources that support Dual Language Learners (DLLs), families, teachers, and providers with navigating the pandemic, understanding related guidelines and policy, as well as tools for distance learning. We used our social media platforms to expand our reach in sharing these resources with the community.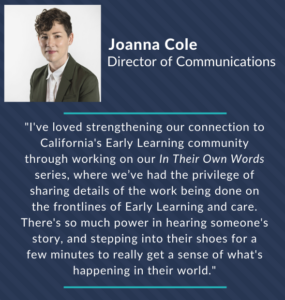 We also saw the benefits of using technology to connect with and support the Early Learning community. Digital communications helped us amplify the voices of teachers and providers through the In their Own Words interview series, a platform for sharing their experiences during the pandemic that fostered connection within the community. We created new products to support teachers and providers in their work. When they told us they needed support with distance learning, we contacted our partners and began designing complimentary English and Spanish webinars with relevant content for distance learning. We discovered new ways to engage state legislators while providing resources to teachers and families through our video series, Storytime with Early Edge California and Friends, featuring recorded readings of children's books in English and Spanish. We even had the chance to hear from those at the center of our work–our youngest learners–to understand what challenges they were facing in this often scary time.
Listen to All Voices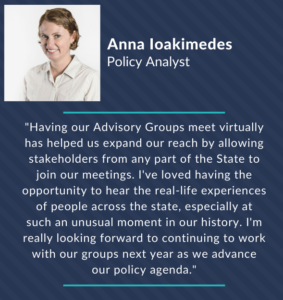 The pandemic revealed how critical it is to bring as many voices to the table as possible to tackle the major roadblocks and hurdles we faced as a community. COVID-19 prevented in-person meetings with our Early Learning Advisory Groups and LEA Professional Learning Community, but hearing their experiences was so integral to our work in supporting them, we knew we needed to stay connected. So, we again turned to technology, hosting virtual meetings that allowed for more flexibility and frequency to support the needs of our members. Our Early Learning Advisory Groups met 4 times in 2020 instead of twice a year in order to support teachers and providers as they navigated closures and distance learning. Our LEA Professional Learning Community began meeting weekly rather than quarterly, allowing representatives from school districts across the state to share, brainstorm, and problem solve during the pandemic. Technology also allowed us to expand by creating new stakeholder groups. This fall, we held inaugural meetings of our Parent Advisory Groups in English and Spanish, as well as a group for Family, Friend, and Neighbor child care providers. This year highlighted the importance of connecting with those doing the work and those receiving Early Learning services to best support all members of the community.
Expand Partnerships to Strengthen the Work
Partnerships are needed more than ever during such challenging times. This year, we were fortunate to have the opportunity to be a supportive partner in the creation of the Master Plan for Early Learning and Care (MPELC). Our Executive Director Patricia Lozano served as a member of the Early Childhood Policy Council's Parent Advisory Committee, and was an external contributor to the final plan. In early 2020, we released DLL and Workforce policy recommendations for the MPELC team and then revised them to address the new needs of children, families, and teachers arising out of COVID-19. Our team also contributed to a knowledge brief on Dual Language Learners that was used to inform the development of the MPELC recommendations.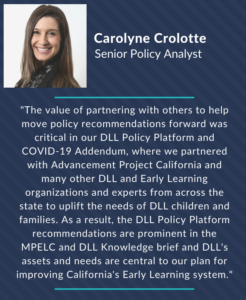 Through partnership this year, we also have identified a new opportunity to stand up for Dual Language Learners. Early Edge is leading a new project aiming to build consensus on DLL and English Learner (EL) instructional practices and professional development for grades Pre-K through 3 while also addressing issues arising out of the COVID-19 crisis with the goal of uplifting best practices, lessons learned, and appropriate resources for addressing the needs of DLLs/ELs. We are inviting many partners to collaborate with us to realize our project goals including the DLL-PD grantees, local and national DLL and EL experts, and California-based school districts and Early Learning providers who are models in supporting DLLs/ELs. And, we are fortunate to have the support of the Emerging Bilingual Collaborative, a group of funders partnering to advance educational supports for DLLs and ELs in Pre-K through 3rd grade in California. 
While we have all experienced challenges this year, we are so grateful for the opportunities we have had to support the needs of children, families, and teachers and connect with so many invaluable partners along the way. On behalf of the entire Early Edge team, we thank our fellow Californians committed to supporting our youngest learners in 2020 and every year — from teachers and child care providers to our incredible funders and advisors, without whom this work could not be done. We look forward to continuing our collaboration with you all in the year ahead. 
Wishing you a safe and happy holiday season, and a hopeful 2021!