Blog
|
December 4, 2019
|
Early Edge California
ACSA's 2019 Leadership Summit
Early Edge California Presents "Connecting Policy and Practice to Support Dual Language Learners: Two California School District Examples" at ACSA's 2019 Leadership Summit
Early Edge recently participated in the Association of California School Administrators' (ACSA) 2019 Leadership Summit to share important work being done to support dual language learners (DLLs) in California.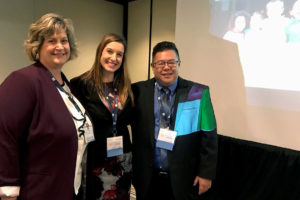 Our Senior Policy Analyst, Carolyne Crolotte, presented with Fresno Unified School District's (FUSD) Executive Officer, Deanna Mathies, and Los Angeles Unified School District's (LAUSD) Executive Director of Early Childhood Education, Dean Tagawa, about the ways in which these two school districts are currently supporting DLLs through their exemplary dual language programs.
"Connecting Policy and Practice to Support Dual Language Learners: Two California School District Examples" provided a detailed overview of the programs, but also extensive information about how they were able to leverage recent state policies and funding, in partnership with Early Edge and other organizations, to substantially increase support around DLLs and their families. Thanks to the passage of Proposition 58, these districts were able to expand their dual language programs to Early Learning settings including preschool, Expanded Transitional Kindergarten, and Transitional Kindergarten. In addition, by leveraging state and local dollars, they have been able to provide high-quality DLL-related professional development for their Early Learning teachers. 
The group presented two exemplary professional development models for supporting DLLs: the Language Learning Project, currently being implemented in FUSD, and Sobrato Early Academic Language (SEAL) Model, being implemented in LAUSD. Learn more about these organizations and others focused on teacher training and development in support of DLLs.
Sharing about these programs with other educators is a critical way to address the importance of supporting children's home language development in the early years so we can close the achievement gap early and set them on the path to success. Thank you to ACSA for hosting this important statewide exchange. 
Learn more about "Connecting Policy and Practice to Support Dual Language Learners: Two California School District Examples" — view materials from our recent presentation: