Blog
|
August 15, 2022
|
San Diego Unified, TKCalifornia
TK Expansion in Action: San Diego Unified Surpasses Goal Enrollment for TK Expansion
Our new series covers California's Transitional Kindergarten (TK) expansion in the 2022-23 school year through interviews with districts across the state to highlight strategies they have employed to make expansion successful. This is the inaugural blog in the series.
San Diego Unified Surpasses Goal Enrollment for Transitional Kindergarten Expansion
As children, parents, and teachers all make the final preparations to get ready to go back to school in the next few weeks, San Diego Unified (SDUSD) has already laid the foundation to ensure a successful year ahead. As declining enrollment is reported in school districts across the state and country, SDUSD has managed to surpass its enrollment expectations for Transitional Kindergarten (TK) for the 2022-23 school year. When SDUSD opens its doors on the first day of school on August 29, they will have more than 4,000 students enrolled in 185 TK classrooms across all elementary school sites.
But how did they do it? SDUSD Early Learning Director, Stephanie Ceminsky chalks it up to very intentional parent outreach and community engagement. "We wanted parents, teachers, staff, and our students to be excited about TK and create a supportive culture for our Early Learning programs across school sites in the District. To achieve that, we knew we needed to brand and promote our programs to the local community from the onset."
SDUSD has been working to raise awareness of its Universal TK program for a few years. The District first started by branding its Early Learning programs to build local recognition within the community and cultivate excitement and pride for programs amongst teachers and staff. As part of the branding, they created an Early Learning program and department logo to present a distinguished look parents and families would come to recognize. The District also developed marketing materials that helped break down the key components of the Early Learning program to increase the knowledge and understanding of parents and families. Additionally, SDUSD conducted an overview series of internal professional development for teachers and principals to ensure the whole school site cultivated a developmentally appropriate Early Learning environment.
To prepare for the upcoming school year, SDUSD began promoting enrollment back in the spring with pre-registration events. Schools provided ample opportunities for parents and families to learn more about program options, including holding office hours where principals could answer questions from parents. The District also had a strong communications plan to get the word out about its Universal TK programs, which included earned media through local television interviews and articles in the newspaper, as well as social media, robocalls, and updates on school site and district webpages.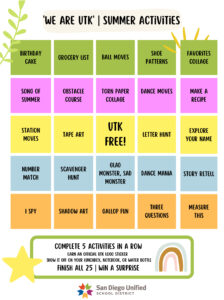 To continue building anticipation and excitement throughout the summer, the Early Learning Program created an opportunity for the new TK students to 'countdown to UTK'. Families were sent a "We Are UTK" summer activity board with supplies that were filled with activities to let a child's mind wander, create, and imagine, as these competences help to promote happy and positive feelings towards learning. Students that completed several of the activities over the course of the month could earn an official logo sticker, pencil, or water bottle, helping to build enthusiasm for starting school. Check out SDUSD's countdown to UTK activity board here.
To learn more about SDUSD's UTK Program visit their website where you can find information about enrollment for the next school year, including a list of enrollment FAQs. For more information about TK across California visit Early Edge's site, TKCalifornia.org