Blog
|
February 13, 2020
|
Advancement Project CA, First 5 California, Sobrato Early Academic Language (SEAL)
Sharing Our New DLL Policy Platform with the Early Learning Community
On February 3rd, Early Edge California released its Dual Language Learner Policy Platform in collaboration with Advancement Project California. Together, we spent the week raising awareness on its recommendations, and making connections across the state through a series of events.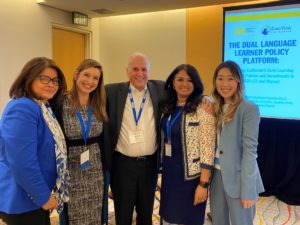 In conjunction with the platform's release, Early Edge Senior Policy Analyst Carolyne Crolotte presented at the First 5 California 2020 Child Health, Education, and Care Summit in Irvine on February 3rd, with co-authors Dr. Marlene Zepeda and JunHee Doh. The breakout session gave participants the chance to learn more about the platform and identify key ways for moving its recommendations forward in their respective contexts.
Our participation in First 5 California's Dual Language Learner Pilot hearing in Sacramento was another opportunity to amplify the conversation around supporting dual language learners. At the hearing, which introduced a new brief on the Pilot from American Institutes of Research (AIR), Patricia Lozano served as a panelist, highlighting the many ways in which the AIR brief aligns with our DLL Policy Platform recommendations. Read more about the hearing and the AIR brief.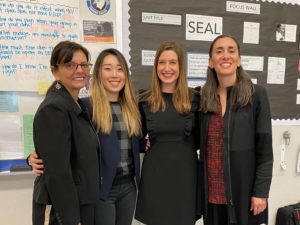 We finished the week in Redwood City where we visited a Sobrato Early Academic Language (SEAL) demonstration site alongside policymakers and practitioners from across the state. We visited three preschool classrooms implementing the SEAL model and were able to see firsthand an example of where several of our DLL Policy Platform recommendations are already being implemented. We ended the visit by sharing a presentation and engaging in discussion around the DLL Policy Platform.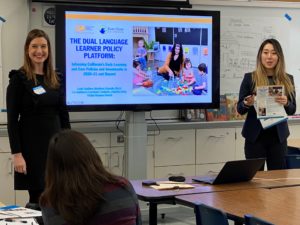 Informed by DLL experts and stakeholders in the early childhood field, The Dual Language Learner Policy Platform guides decision-makers to build an Early Learning and Care system that embraces the strengths of DLLs and their families and recognizes their needs. The Platform's recommendations align with the asset-based approach to supporting DLLs in the California English Learner Roadmap and reflect its values and spirit. Recommendations identify both short-term and long-term goals.