Blog
|
May 14, 2020
|
New America
How the Language Learning Project Trains California's Teachers and Caregivers to Support DLLs
With state support, communities in Central California work to improve caregiving and instruction for infants and toddlers learning two languages.
This blog is part of a series—reported in partnership with New America—that explores California's innovative investments in professional development for teachers working with the state's growing population of dual language learners (DLLs). You can find the first two blogs in the series here and here.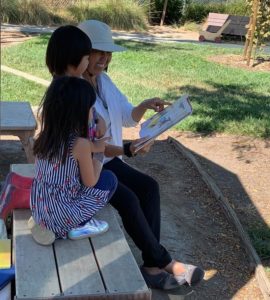 In Dinuba, Calif., in the Central Valley, Dulce Meave cares for 14 children for 11 hours a day. Some arrive as early at 4 a.m. so their parents can go to work in nearby fields or packing houses. Most are Latinx, and about half speak Spanish at home.
Yet Meave, a former preschool teacher who opened her home child care program two years ago, hasn't had the opportunity to have much training in how to support young children under 6 learning two languages. And that's a shame, because research shows that without specialized support, young dual language learners (DLLs) are likely to fall behind in school and lose their home language.
But thanks to $5 million in new state funding, Meave is participating in a unique, locally developed training program to support teachers and caregivers of young DLLs and help ensure children are ready for kindergarten. Developed in Fresno, the Language Learning Project was recently awarded $1 million by California's Department of Education to expand across the state, one of six funded projects.
Meave attends regular professional development programs on Saturday mornings along with other family home care providers, teachers, and those who work at child care centers. The training helps ensure these caregivers prioritize language development, cultural responsiveness, and school readiness.
"I'm so loving it," Meave says. "I'm learning a lot, and I'm actually implementing the things they are teaching us here in the trainings."
The sessions focus on language instruction, according to Maria Ceballos Tapia, who runs the program in the Fresno Unified School District and helped it expand to neighboring counties in the Central Valley.
"We focus on the value of and support for the home language, getting to know the child and family, and really concrete strategies teachers can use to support linguistic growth," Ceballos Tapia said. The curriculum is based partly on research by Linda Espinosa, a prominent DLL expert, who advocates for promoting oral language development in the classroom and through connection with families and support for the home language.
The program was developed in Fresno after advocates for young children in the city were concerned that dual language children were falling behind in elementary school. Fresno is one of three local communities—along with Oakland and San Jose—that, with the support of the Starting Smart and Strong Initiative from the David and Lucile Packard Foundation, is working to provide stronger teaching and caregiving by 2025.
In Fresno, the school district, along with Head Start, Early Head Start, the Fresno County Superintendent of Schools, and the Central Valley Children's Services Network, all collaborated on the training program's development in 2015.
By 2019, they were ready to expand beyond Fresno. "We've been testing and learning, defining the model. We were ready to take it somewhere else," Ceballos Tapia said.
The grant from the California Department of Education has allowed them to do just that. They used the funds to expand the program to Kern and Tulare Counties and offer train the trainer institutes statewide, which are now being offered online due to COVID 19. The institutes will help disseminate a new Dual Language Learner Toolkit to agencies who want to do this work in their own communities.
Rosalva Mitts is an instructional coach in Kern County. She says she has seen firsthand how family child care providers in the program are becoming more engaged in their work and strengthening their practice with dual language learners. One provider, for example, has moved from just reading books to using gestures and puppets, to help develop fluency and extend understanding. "I see the kids very engaged — in both languages," Mitts said.
In addition to attending the professional development sessions, participating teachers and child care providers in each county receive ongoing support from coaches on implementing the recommended strategies. This can mean everything from labeling things in English and Spanish, to helping teachers develop a bilingual classroom or home child care environment, to providing materials, to advising teachers how best to work with families.
Mitts hopes state funding continues so she can expand the project to reach more teachers and child care providers, including family, friends and neighbors. The need is great in Kern and Tulare county. Many infants and toddlers in California are in the care of family, friends or neighbors who especially need access to training.
"How do we modify these strategies so that grandma and aunty and the neighbor can still have those quality interactions and build on that home language—and introduce them to the English language as well if they are able to?" Mitts asked. "I'd definitely love to see the friends and family included. That would be awesome."
Whit Hayslip, a consultant to the project and former assistant superintendent of Early Childhood Education for Los Angeles Unified School District, has watched the program grow in Fresno and now other counties. Hayslip said one of its most valuable contributions is how it brings different sectors together to support young children, the effect of which can spill over into the whole community.
The communities, he said "feel so much momentum. They understand the effectiveness and the need."