Blog
|
August 12, 2021
|
First 5 California
First 5 California DLL Pilot Community of Practice: May 2021 Meeting Summary
By: Early Edge California, Advancement Project California, and Glen Price Group (GPG), in partnership with First 5 California and the California Department of Education
This blog is the second post in a new series about the DLL Pilot CoP. See here for additional blog posts.
Resources for Educators and the Field
Policy Implications
Policy makers should consider supporting the ongoing

Assembly Bill 1363

(Identifying & Supporting Dual Language Learners in California's Early Learning System) and work to expand the standardized identification process into ECE settings beyond the California State Preschool Program as set out in the bill.
As Dual Language Learners (DLLs) make up 60% of California's population of children age five and under, building a high-quality Early Learning and Care system for California's youngest learners must build on the rich cultural and linguistic assets of DLL children and families to fully support them to reach their full potential, and incorporate a clear focus on supporting multilingualism. The DLL Community of Practice (CoP) is a place for counties implementing the First 5 California DLL Pilot to share lessons learned and support one another to realize that aim. 
The CoP's first meeting focused on educator engagement, preparation, and professional development. This meeting specifically focused on the need for identifying DLLs in order to provide effective, culturally and linguistically responsive family engagement. CoP members heard a powerful presentation from Jessica Gutierrez, an educator with Fresno Unified School District who works with the region's Language Learning Project. The presentation highlighted the importance of identifying DLLs as a useful tool for teachers to support their practice and engage families. Jessica overviewed the Family Languages and Interests Interview – Language Learning Project Toolkit and how implementation of this process provides teachers with essential information about their children and spoke on how implementation of this process changed her practice as an educator and helped her better connect with the families of the children she teaches and cares for. CoP members reflected on the presentation in breakout rooms and shared that there is a major need for a common definition of DLLs and approach to identifying them throughout the state. Without a common definition and identification process for DLLs, local First 5 staff, ECE program administrators, and ECE educators face significant challenges in effectively serving DLLs and their families.
"Challenge is where we may have one child who speaks a specific language and that child or family gets lost if there is no representation of that language on staff. Teachers can't come up with all the answers. How is the system, leadership, and program director putting in supports?" —CoP Member 
CoP members heard from Jessica Gutierrez, a local educator with Fresno Unified School District, who shared how she uses the Family Languages and Interests Interview – Language Learning Project Toolkit to identify and provide responsive best practices to the DLLs in her classroom.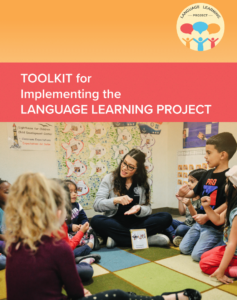 This blog will be updated regularly to share the emerging lessons learned, needed resources, and policy recommendations coming from the DLL Pilot CoP meetings. Learn more about the First 5 CA DLL Pilot.