Resources
|
September 10, 2020
|
Early Edge California
Supporting the Early Learning Workforce through the Coronavirus Pandemic
A Policy Brief from Early Edge California on California's Early Learning Workforce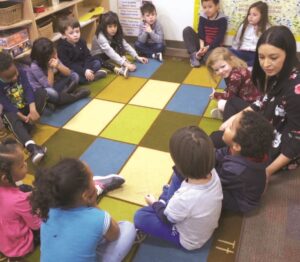 The COVID-19 pandemic has changed almost everything about how Californians live, work, and care for our children. It has also highlighted what many in the field of early childhood already knew — that childcare is essential. 
Re-opening childcare is not only critical to our economy, but critical for the healthy development of the Golden State's greatest asset — our children. Furthermore, children are experiencing trauma, learning loss, and social isolation — making it all the more important for Early Learning teachers and providers to have the skills and abilities needed to provide high-quality care. Now is the time to support, strengthen, upskill, and adequately compensate the Early Learning workforce, both for our immediate response to this crisis and to ensure that California emerges stronger.
Early Edge California's new policy brief, Supporting the Early Learning Workforce through the Coronavirus Pandemic: Policy Recommendations for the State of California, addresses the challenges and needs of the Early Learning workforce resulting from COVID-19. This brief, an addendum to our February 2020 workforce policy paper, offers short- and longer-term recommendations to policymakers and partners across all levels of the Early Learning system with the goal of: 1) rapidly and adequately addressing the current crisis and 2) recovering from this crisis with a well-supported Early Learning workforce and stronger system overall.