Resources
|
October 22, 2020
|
Early Edge California
Health, Information, Security, And Community: What Family, Friend, And Neighbor Providers Need During Covid-19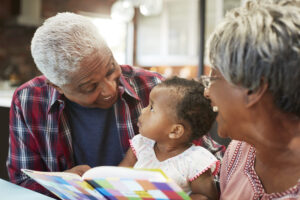 The term "Family, Friend, and Neighbor" (FFN) generally refers to unlicensed or license-exempt home-based providers. During the COVID-19 pandemic, many families came to rely on FFN providers as other child care settings closed or limited their enrollment. A survey from the Bipartisan Policy Center showed that a third of families who had previously relied on a child care center were relying on child care from a relative during the pandemic, and an additional 8% were relying on a friend, neighbor, or nanny for care. This means 40% of children previously in formal child care are now being cared for by informal FFN caregivers.
The current public health crisis represents an opportunity to provide support and training to this group of caregivers so that they can better guide the children they serve and help prepare them for kindergarten and beyond. In order to understand FFNs' experiences, Early Edge California conducted a survey of sixteen agencies serving FFN providers statewide, including Child Care Resource and Referral Agencies, libraries, and County Offices of Education, and we interviewed six FFN providers in Los Angeles and Central California to better understand their experiences and challenges during COVID-19. In our new brief, we present key findings from these interviews and survey results, and share some policy recommendations for supporting FFNs based on the feedback we received from providers and the agencies that support them. 
Early Edge California thanks the David and Lucile Packard Foundation's Family, Friend, and Neighbor Learning Community for their participation and support. We also express our gratitude to the FFN providers and provider-serving agencies who participated in this project.