Blog
|
April 16, 2020
|
Early Edge California
In Their Own Words: Hearing from our Early Learning Community during COVID-19
Early Edge California Interviews Family Childcare (FCC) provider Renaldo Sanders.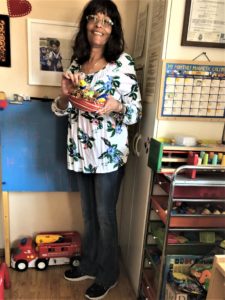 Renaldo Sanders is a Family Childcare (FCC) provider and a member of Early Edge California's teacher advisory group. She operates Sanders Creative Kids in Los Angeles, providing daily childcare and learning experiences for children, birth to 12 years. The COVID-19 crisis has brought many adjustments and changes for Renaldo and her childcare families, but as she shares, it's about doing the best that we can together. Early Edge California spoke with Renaldo to learn more about how she's navigating the crisis to continue to support the children and families she cares for on a daily basis. 
EECA: Tell us a little bit about your work as a childcare provider – what is your childcare site called, how many children and families do you normally serve?
Renaldo Sanders: I operate Sanders Creative Kids, where I provide childcare and daily learning experiences that are age- and developmentally- appropriate. I'm licensed for children birth to 12 years.
I love what I do and I've been doing it for many, many years. This is the first "challenge" challenge — to ensure as best we can the safety of our children as well as our staff, and provide activities that are engaging for them while doing social distancing and introducing these concepts to children who are so young. At first it was a little challenging for us, but we all worked through it together and we get it now! We're doing our best. 
I'm just so proud of the families that are out there still working. And, I'm proud of our families as well — we have grocery workers and nurses and it's just so amazing that they're out there working for us now, too. 
EECA: Tell us what it's been like for you and Sanders Creative Kids over the last few weeks with the developing COVID-19 situation.
RS: I've been around a long time, so I'm kind of used to changes, but nothing like this. But with the help of others out there offering things and supplies and unemployment opportunities for those that need them, it's just so special. At first I was nervous about essential supplies, thinking, "Oh my God, what are we going to do?" But then it was clear that we'll figure this out together as best we can. 
Next thing I knew, we were on our "social distance" walk, and a neighbor came out and said, "I've been looking for you all, I have milk for you," and she gave us like three gallons of milk. And then she came the next week, brought food and other things, and more milk. And I was able to share it with our families here because we had an abundance of milk. It was just amazing. And then we had another neighbor bring food. And one of our parents started to bring in paper towels and toilet paper and cleaning supplies, too. Even though it's a challenging situation, just the outpouring of love from everyone has been amazing. My union is reaching out to us as well and our resource and referrals. And it was a big help for providers to have the food programs modify our creditable foods and milk requirements due to COVID-19 shortages.
Never before in all my years of being in business have we been considered important and essential for people to do these things for us–beyond our close people, I mean people all over. Just to ensure that our families are good and that we're good. It just warms my heart and brings happy tears just thinking of that. 
EECA: Are you providing childcare as normal or has it been disrupted by the pandemic? 
RS: Normally we have between eight and nine children or seven to ten, with three at elementary school. But now, because some of our parents' jobs have sent them home either to work, or they've shut down, we have between five and six children. One day we only had three. Right now we're providing childcare to our parents who are essential workers. 
We're trying to discuss it with the children in a way that they can understand: that I can't give them hugs as we normally do, that we're going to do them in a different way, we're going to give elbow bumps. That's what's hard. I'm concerned about the children, that's the main thing. To keep their little happy smiles going.  
We have food and supplies, the only thing we don't have extra of are the face masks, but we've been making those. We just put on our creative hats and get on back out there. So we've made up our own. And my son showed us how to make tshirt masks, so they have those, and we have some bandanas, and we're going to decorate some more today.
EECA: How are you implementing the new ratios, social distancing, and health guidelines?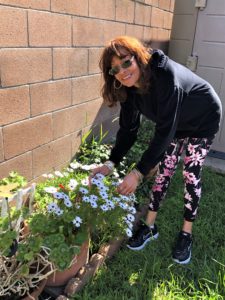 RS: When we put the new safety precautions into effect, I sent notices to our parents that there can be no sneezes, coughing, and all that right now. We want to keep us all as well as we can, so that we'll be able to continue doing our wonderful job that we love.
As far as disinfecting and cleaning and the children washing their hands, that's part of our routine normally. We're just adding more of it. We sing a song, "Scrub and scrub and scrub and scrub and scrub the germs away, soap and water does the trick and germs go down the drain," so that's our 20 seconds, so we already have that. The hands out of the face, that's a little challenge at times especially for the young ones since they want to put their fingers in their mouth. We explain to the children that there are some germs out there that will make us and our families very sick so it's really important for all of us to try as best we can. We're going to give it our best try and we can do anything if we do try.
We've also adjusted so that each child has their own equipment and then when they're done and we're sanitizing it, we're bagging each up at the end of the day, so that no one else touches that. One of the new things is wearing the masks, and we've done that. And our walks with social distancing — there's no more holding hands, which is just different, but it's still great and we're able to do it. 
It's all about communicating the safety precautions to the children as well as praising them for the work that they do. And if there needs to be some redirecting, we say for example, "I really like the way you're trying, let's see if we can do it another way. What if we put the soap on first and scrubbed and scrubbed?" 
At this time ratios don't affect us, but with groups like circle time, we've had to limit ways of doing that activity. So if I have an activity, I might have three children with me and each child is spaced 6 feet away from each other. Miss Ginny might be doing something at the tables with the children or sitting spaced apart at that time. Then the next group rotates in and we sanitize this, put that away, pull out something else, clean the tables from the ones that have been there, and then have the kids wash their hands. We didn't do our normal egg hunt this year. Everyone had their own bucket and had 6 Easter eggs and they tossed them into their own bucket. If something fell somewhere else, we said to leave it there, those are the eggs that we picked up and put in the back to be sanitized. But our babies are still making activities, but again they're doing it separately or spaced apart. 
For social distancing, we also demonstrated to the children to cross our hands in front of our own body, and then that creates that space. And if we see that someone is a little too close to the next person, we make a little lightning buzz sound and now they recognize when they hear that, they move over. These little babies are phenomenal. They are super and they adapt to what we put forth to them as adults. And if we put forth panicky things and screaming and yelling and "oh my god what's going to happen now," then that's how they'll be. So we try our best to be up as much as we can. 
EECA: Is that impacting the type of the activities you can do with children?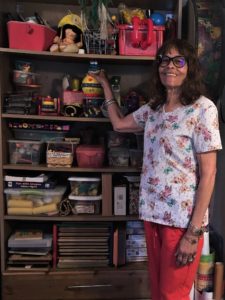 RS: Being mindful of our social distancing, we're able to provide children with their own activities, so if one person is doing the beany bag dance for example, another has the ring toss. Then we have activities like the bunny hop where we stay at a distance from each other, but do it together. It's just about adjusting. Even with eating, we've had to bring other tables in, and separate children that way. And, it works and they're working with us, so that's a really good thing. We praise the children for their help in keeping us safe. It's a team effort and they feel part of that team – we say, "Sanders Creative Kids rock!"   
We're also having the elementary school-aged kids as well as the younger children draw pictures and then they tell us about what they wrote or drew, so they're able to express their feelings about going through this and I think that's also very important. 
EECA: How are your families doing right now and how are you supporting them in ways that might be different from before COVID-19?
RS: Some of our families have had to stay home with their kids because of their jobs, and we stay in touch with them. We FaceTime or send little notes and pictures, just to tell them we love them and we're still here. All the new technical things that I complained about so much before are so wonderful and useful to me now! So I'm enjoying getting to see the children who are at home.
We have been supporting parents with having their kids at home in a number of ways. We send out things that they can do using YouTube, such as going to other countries for visits, finding little songs that we do in person that are in English and Spanish and French on YouTube so they can continue that at home. Our beginning readers are learning new words and doing math on YouTube. And we also share fun family things: meditation, yoga, and other things to keep them busy. 
We have our families in mind even if they can't be with us in person, and share these resources and let them know that we miss and love them and that we'll be together soon. I feel that it's really important to have that personal touch. And the parents are communicating with us also; they're sending us things that they're doing. One of our two year olds was baking a cake, mixing it up, and her parents sent a picture to us with a note saying, "she cooks at school so we're making sure she cooks at home."  
It can also be stressful for parents with their kids at home. I have one parent who has three children: a 9, 6 and 2 year old. And she said, "I had to call you, Renaldo, would you talk to them because they're driving me crazy." And I said, "Well let's all go crazy together, so she put me on speaker, and we all kind of went "Ahhhh" and then I said, "OK take that breath in, let it out slow, and let's all get along over there." And they were just cracking up. It was so funny. But just reassuring our parents especially when it's just a mom or just a dad we're talking to, that you're doing a great job, you're doing the best, the main thing is keeping yourself safe and your spirit up, and just enjoying the time that you have with your child now. 
We also provide other resources. For example, some of the parents didn't know they could apply for unemployment, so we share that  information and others resources that we find such as food banks, domestic hotline information, and other things. And we tell them if you need anything, give us a call, we're here for you and we'll work through this together as best we can.  
EECA: Do you have any new families contacting you who need childcare?
RS: Not at this time but we're listing with Carina which is a registry for SEIU members and they started that a couple weeks ago, but I think this week they're going to be giving out referrals. Which is fine, and right now, if a family really needs it, that's good, but if not, we're fine with what we have right now. And, some parents have indicated that they may be returning to work soon, but I know now the order has been set til May, but who knows what we'll hear tomorrow or tonight? But for the safety of us also, it would be kind of hard to bring in someone, but we're open for it. We'll just be extra cautious. If a nurse or a paramedic or some essential worker needs care, then we're here for them.    
EECA: Have you connected with other FCCs, and if so, how is that going? 
RS: Most definitely. I'm the vice president of my family childcare association and we're in touch, and we have our meetings now by conference call. And whatever information that I get, I send to them. Our union is there. Our get out to vote groups are there too, there's about 15 of us. So we're all sharing things together as best we can. It's really good that everyone's providing information and I appreciate that support. The Child Care Law Project, Early Edge, Crystal Stairs, it's awesome, everybody's together. We're all in touch. It's a good thing. 
EECA: Will this new $100 million investment from Governor Newsom affect your FCC positively? 
RS: Our governor walks on water. Myself and a retiree were the only people in our local that voted for him as a gubernatorial candidate. Then when they took the vote up and down California, then the rest of the providers came on board. So I knew from the start that he was there, he's there for us, he's a family person and he cares. But as far as the funding, when you try to get onto the line, you can't get in. It's busy, busy, busy and you're on hold for so long. But right now, I'm good, and our subsidized parents will be paid, which would never have happened in the past without the wonderful help of you all. 
EECA: How can we support you?
RS: I sincerely appreciate that. I'm speaking for all providers right now. I know that masks are really needed by the other providers. There was a company on television I saw on the local news and I contacted them. They normally make kitchen apparel for restaurants, so now they're making masks for essential workers, so I put in an order for that. I haven't heard back yet, but I'm still hoping that that'll work. Some providers in the rural areas are really having problems, like San Bernardino, Riverside County, Delano. For our providers, I'd like to help them keep their morale up and focus on the things that we have. And we will work together to get those masks on. Right now, we have toilet paper, paper towels, paper plates, sani wipes, we're going! We have food, milk, water. We're just blessed. We have what we need right now and I'm hoping others will, too. And this too shall pass. It's just the time to pull together. 
EECA: Is there any advice or words of wisdom you have for fellow providers?
RS: Together we rise.