Blog
|
September 17, 2020
|
Early Edge California
In Their Own Words: Hearing from our Early Learning Community during COVID-19
Family, Friend, and Neighbor Providers Share their Unique Experiences of Working during the Pandemic
Family, Friend, and Neighbor (FFN) providers are home-based childcare providers who are unlicensed or license-exempt and provide care to the children of a friend or family member. FFN care is common in the US – between one-third and one-half of young children nationwide are cared for by an FFN caregiver at least part of the time. Many FFN caregivers provide care free of charge for family members, but some are paid privately or through public subsidies.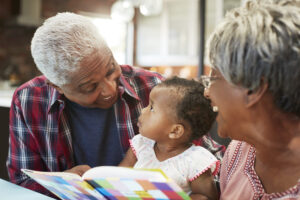 During the COVID-19 pandemic, many families came to rely on FFN providers as other childcare settings closed or limited their enrollment – a survey from the Bipartisan Policy Center showed that a third of families who had previously relied on a childcare center were relying on childcare from a relative during the pandemic and an additional 8% were relying on a friend, neighbor, or nanny for care. This means nearly half of children previously in formal childcare are now being cared for by informal FFN caregivers.
In August, Early Edge California interviewed a number of FFN caregivers working with childcare agencies across California to understand their experiences during the COVID-19 pandemic. To respect confidentiality, below we present a composite of the experiences that we heard from these providers. 
EECA: Can you tell us a little about the children you care for?
I take care of three children. Their parents are friends of mine. The parents bring them very early, at 5 or 6 in the morning. The parents come back at different times because the schedule changes – they work in the fields. I take care of the children Monday-Saturday; sometimes Sundays as well. I start working for the family in April and usually work with them for four or five months – it's seasonal. If the mom finds more work, then I work the whole year. I've been working with the agency GoKids for about three years now. 
EECA: Has anything changed about how you provide care since the pandemic started?
It's changed a lot. We used to go to the park and I used to take the oldest to school. 
For me it's been really different – my routine changed a lot. It's been really stressful. I worry because the kids' parents work outside the home and have contact with other people. We have to take a lot of precautions when they come to pick up their kids – wear a face mask and make the kids wash their hands before they come to the house. But it gives me a lot of stress. My husband actually didn't want me to watch the kids this year – he was like, "no, no, don't watch them this year," but I've been doing this a long time and I love taking care of the kids. 
EECA: What support have you gotten from your agency during the pandemic that has been helpful?
The agency offered a class twice a month for two hours [that we could bring the kids to]. We [the caregivers] would do activities and there would be a theme – child development, safety, that kind of thing. It was really helpful to us. The kids would do arts activities, science projects, circle time.
Since COVID, we can't participate in the group anymore. The kids really miss their teachers. Now, the teachers are keeping in touch with us through telephone. We talk once a week and if we have any concerns or worries about the kids, they give us help, information. For me, it's a chance to relax, and talk with the other caregivers. It's a lot of emotional support. So if we are having a problem with a kid, we can talk about it with the group and with the teacher, "Could it be this? Could it be that?" Share ideas. It's really important to the agency that the kids stay emotionally healthy. I recommend this agency to everyone – I've taken advantage of the resources to the max. 
[The agency] has also been providing us with materials like paper and crayons so we can do activities here at home. They also give us information on where we can go to get food and other community resources. They've been really, really attentive. It's a great program.
EECA: What has been the biggest challenge during the pandemic?
The anxiety about getting sick. The classes I'm taking with my agency really help. I learned that I need to take care of myself and not pass the anxiety on to the children. I told their parents to not let them watch the news because it affects them. I reassure the kids when they are worried and tell them that if they get sick I'll take care of them. 
EECA: What would be the most helpful to you during the pandemic?
More cleaning supplies, more things for the house, so that I don't have to go out and buy things as often. My husband works in the fields so he has to take a lot of precautions when he comes home. He changes all his clothes before he comes inside. It's a little difficult right now with the fires and the bad air quality and wearing a mask when it's so hot. We don't have enough funds to buy the protective equipment he needs. The situation right now is really difficult. 
My granddaughter started kindergarten this year from home, on the computer. It's a little difficult because I don't know a lot about technology. I wish I understood more so I could help her better. I only speak Spanish and the class is all in English so what happens is I just get her connected and then I go take care of the 3-year-old. I try to understand but I don't catch much. I know a lot of others are struggling as well. 
EECA: Is there anything else you'd like to share?
The program that I work with has been a really big help. I just need them to keep doing what they're doing. Even though we aren't teachers, it's really helpful to have the classes and the information that they give us.