Early Edge Hosts Biannual Teacher Advisory Group in the Bay Area
Early Edge hosted its third Bay Area Teacher Advisory Group on October 19. Our Bay Area Advisory Group consists of representatives from Transitional Kindergarten, Head Start, Childcare Centers and Family Childcare.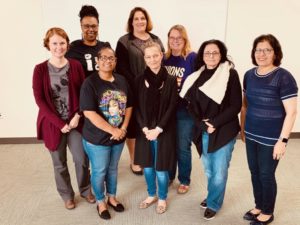 Early Edge provided Advisory Group members with updates on legislation, the Governor's Master Plan for Early Learning and Care, and the Preschool Development Grant. Participants were particularly excited to discuss the recently passed AB 378, which will permit childcare workers to unionize and collectively bargain with the State. After lunch, members participated in a robust discussion about their needs in serving Dual Language Learner students.
Key takeaways from the discussion included:
There is a need for greater focus on the lack of high-quality care for infants and toddlers.

On-the-job coaching from qualified, experienced coaches is the most valuable teaching tool.

Participants supported increases to the reimbursement rate being tied to quality, but were concerned that quality metrics would drive programs to be overly focused on academic goals, while not valuing the elements of play, bonding, or nurturing that programs provide.

Teachers often have as many as seven distinct languages in the classroom but receive no support or aids to help serve these children or communicate with their families. The need for both language training and culturally-specific training is high.
In their evaluations, participants stated that the discussion made them feel heard and that they appreciated that their views would be communicated to policymakers. We thank the teachers and para-professionals who took time from their weekend to share their thoughts and experiences with us. The Bay Area Advisory Group will have its next meeting on Saturday, April 4, 2020. If you are interested in participating, please contact Trish Morrison at [email protected].