Resources
|
February 1, 2023
|
Early Edge California
Celebrating Black History Month
Resources for Early Learning Teachers and Families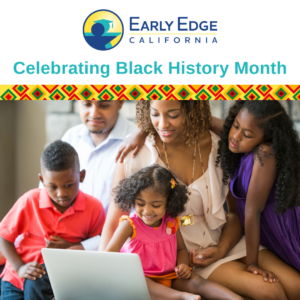 February is Black History Month. It's a time to celebrate the important contributions of African Americans and the Black community in United States history. Every year the Association for the Study of African American Life and History (ASALH) selects a theme to center their celebration for Black History Month. This year the theme is Black Resistance: A Journey to Equality.
In regards to the 2023 theme, ASALH shares, "By resisting Black people have achieved triumphs, successes, and progress as seen in the end of chattel slavery, dismantling of Jim and Jane Crow segregation in the South, increased political representation at all levels of government, desegregation of educational institutions, the passage of Civil Rights Act of 1964, the opening of the Smithsonian National Museum of African American History in DC and increased and diverse representation of Black experiences in media." 
To honor Black History Month, Early Edge California has put together a list of various educational resources for Early Learning teachers, caregivers, and families on the history and culture of African Americans, specifically the events and people that paved the way for racial justice.
For Teachers & Caregivers
For Families
Learn more about Black History Month