News and Events
,
Resources
|
July 1, 2020
|
Sobrato Policy Partners
A Vision for California's Schools this Fall: Equity for Dual Language and English Learners in an Unprecedented Moment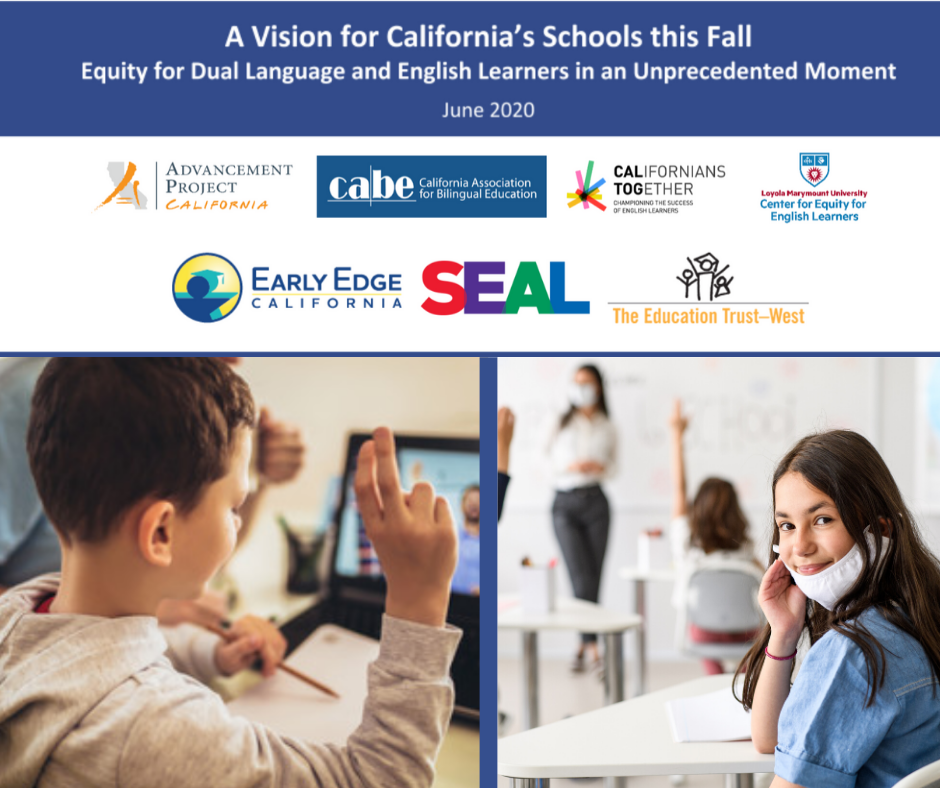 As California educators, administrators, and policymakers prepare to design and implement a variety of possible hybrid learning models for students in the fall we seek to prioritize meaningful support—resources, energy, and attention—aimed at Dual Language Learners' (DLLs) and English Learners' (ELs) linguistic, academic, social, and emotional development as schooling resumes. 
To be decided are the particulars of how schools will reopen, what learning opportunities they will offer, and what priorities will guide their instruction. So, as we transition to distance and hybrid learning we must now more than ever recognize, celebrate, and uplift the assets each DLL and EL student brings to school. 
Developed in collaboration with a group of organizations** committed to educational equity for California's DLLs/ELs, this brief offers a series of concrete, actionable ideas for how local and state education leaders can ensure that California delivers for our highest-need student wellbeing in the present—and, by extension, for Californians' wellbeing in the future. 
Recommendations focus on Four Key Areas:
Opportunity Gaps
Hybrid Learning
Assessments and Accountability
Family Engagement and Support
California schools cannot succeed with hybrid learning this fall unless they take substantive action to address the needs of DLLs and ELs. 
Share this brief with your local and state Early Learning and K-12 education leaders, and join us in calling on decision-makers to act now!
**This brief is a joint publication of Advancement Project California, California Association for Bilingual Education, Californians Together, Center for Equity for English Learners at Loyola Marymount University, Early Edge California, Sobrato Early Academic Language, and The Education Trust-West.