Press Releases / Announcements
,
News and Events
|
June 11, 2018
|
Early Edge California
State Budget includes $5 million for DLL
On her very first day as Executive Director last fall, Patricia Lozano met with Department of Finance staff to discuss Early Edge's budget priorities, including that lawmakers make dual language learners (DLLs) a priority. That critical first conversation was the birth of the Licensed Child Care Teacher Professional Development Program.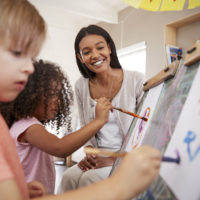 After eight swift but intensive months working in collaboration with key partners including Californians Together, the Advancement Project, PEACH, and the California Association for Bilingual Education (CABE), to secure $5 million in the State Budget to help licensed child development teachers develop effective strategies for DLLs in their care, our work has paid off!
In addition to the $5 million for child care teachers, the State will be providing $25 million for TK-12 teachers to earn their credentials to teach California's English learners.  These investments, that follow last year's investment in the TK-12 Bilingual Educator Professional Development Program, signal a promising new direction for California—one that values the State's rich diversity and recognizes a child's language as an asset to his or her learning.  We applaud the State Legislature and the Governor for making this important shift.
Key ECE Budget Investments… A Promising Start to the Future
With respect to other ECE investments, at about midnight on Friday, the last of the details were approved by the Legislature's Budget Conference Committee and ECE is poised to receive about $1 billion to fund a combination of infant and toddler slots, increase the infant and toddler provider rates, and improve the quality of birth-to-five programs, including the $5 million to support DLLs.
Early Edge joined a coalition of ECE organizations and advocacy groups to stand behind the Legislative Women's Caucus' $1 Billion for Babies campaign. We rallied lawmakers around the need to restore services to infants and toddlers that were decimated during the Great Recession. We convinced them that, without quality improvements in the care and services we provide, we limit the opportunities for the children who need the greatest support. And we set the path for a strong future of early child care and education in California, as the Legislature and Governor Brown reached a multi-year agreement to improve ECE access and quality. The 2018-19 State Budget will include the following major investments:
2018-19 ECE California State Budget Investments
$428.2 million 
To increase Alternative Payment Slots by 13,407 (of which 11,307 are available until June 30, 2022)
$8 million
To Increase Full-Day Preschool Slots by 2,959 beginning April 1, 2019
$167.2 million for Inclusive Early Education
Expansion Grant Program for professional development, equipment, and facilities
$115.6 million 
Investment in reimbursement rates (RMR hold harmless and increase to the SRR)
Up to $80.3 million over time
To increase adjustment factors in provider rates for infants and toddlers and children with special needs
$26.4 million
In annual inspection activities
$26 million
In one-time Quality Investments: Licensed Child Care Teacher PD, county pilot for inclusive care, California Child Care Initiative, and other quality efforts
These investments put California on a promising path to meet the needs of families and children.  The Legislature must send the State Budget to the Governor by midnight on June 15th.  The Governor has until midnight on June 30th to sign the Budget.