News and Events
|
October 10, 2019
|
Early Edge California
Finding Common Ground at the Alliance for Early Success' National Convening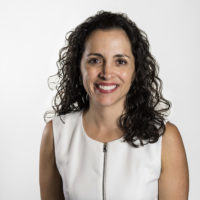 By Patricia Lozano
Executive Director
Early Edge California
This September, I had the honor of representing California's voice on early childhood education alongside a select team of individuals at The Alliance for Early Success' National Convening. The multi-day dialogue, Elevating State Policies for and with The Early Education Profession: Taking Stock, Moving Forward, focused on how we can best support Early Learning teachers and advance the ECE profession in the US. 
The Alliance invited its network of advocates and national experts, as well as state leaders and Early Learning teachers to gather at the table for an honest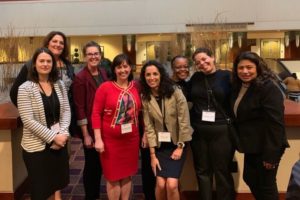 conversation about their experiences in the ECE sphere. 
We shared successes in our states, the challenges we are facing, and how we can achieve the shared goal of ensuring our youngest learners are being supported by well-prepared and fairly compensated teachers that create high-quality early learning programs.  
As a member of the convening's planning committee, I am so proud that we prioritized the teacher experience at this convening. The inclusion of their voice is so critical to the policy work we do and aligns with our priorities.
In fall of 2018, we launched our Early Learning Teacher Advisory Groups, which are designed to provide input from preschool teachers, para-professionals, and childcare providers on workforce issues, Dual Language Learners (DLLs), expanding Early Childhood Education (ECE) participation and quality, and other priority issues. We conducted the first Advisory Group meeting in Los Angeles last November. Since then, we have hosted Advisory Group meetings every six months in Los Angeles, the Central Valley, and the Bay Area.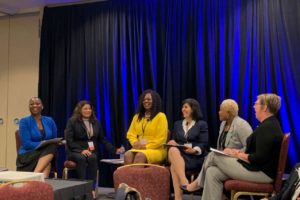 Early Childhood educator, Celia Gomez, one of our Advisory Group members, was invited to the convening's Seeing the Future of the Profession through the Eyes of Today's Educators Opening Plenary Panel where she shared her perspective, "It's very important to know the kids we are serving when we develop our programs. We now have Governor Newsom who is listening to us and giving us hope for change." Other panelists reminded policy experts and advocates that teachers, "are the workforce behind the workforce, they can't exist without us." 
I also had the opportunity to present Equity for California's ECE Workforce: Supporting Diversity Using Provider Voice with Sarah Neville-Morgan from the California Department of Education and Maggie Steakley of Glen Price Group. Session participants learned about California's efforts to support a diverse workforce through intentional planning and engagement of our teachers. We discussed how teacher voices can be elevated to inform policy, and the current context regarding equity for the Early Learning Workforce. Click here to learn more about our session.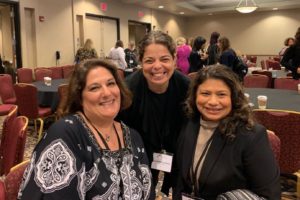 The convening truly brought our voices together and led us to discover that we really are sharing many of the same experiences across our states. I was inspired by the innovation happening nationwide, and how we can learn from this robust network of dedicated individuals striving for improved learning environments for our young children. 
Our California team identified key takeaways that are valuable to consider as we work towards improved quality for our Early Learning programs in California: 
Find ways to place equal importance on educators/staff and the children.
Design competency-based systems and get higher education to give credit for existing competencies. 
Develop a salary schedule and competency assessment with sustainable funding that allows us to permanently increase teacher compensation.
Design a comprehensive, unified ECE data system in California.
Consider staff support systems, self-care, wellness, coaching, and how other states handle giving Early Learning teachers time off during the school year.
Partner with community college organizations and set up internships for high school students to learn about ECE as a respected and professional pathway.
Value the teacher voice by designing incentives and grants that bring them to conferences and motivate them to be advocates.
Create communities of practice and focus groups with other states working on the same problems.