News and Events
,
Blog
|
December 19, 2019
|
Early Edge California
Early Edge's Year in Review: 2019
By  Patricia Lozano
Executive Director
Early Edge California
This time of year is an opportunity to celebrate on many levels — not only with friends and loved ones at holiday gatherings, but with colleagues and partners on the strides we're making for kids and teachers across California. 
Looking back on our 2019 efforts to support Early Learning, I feel so fortunate to work with an amazing team of individuals in Los Angeles and Sacramento. I am equally grateful for the strong partnerships Early Edge has formed with passionate legislators, teachers, advocates, administrators, school districts, and many others who share our commitment in uplifting our youngest learners towards academic success. Their collaboration with us has truly enhanced our work, getting us closer to where we want Early Learning to be in our state.
We cannot forget the incredible support of our funders — without whom this work could not be done. Thank you to The David and Lucile Packard Foundation, First 5 LA, The Heising-Simons Foundation, The Sobrato Family Foundation, and The Richard W. Goldman Family Foundation.
What a year it's been here at Early Edge! As always, our work was led by our commitment to quality, first and foremost. Here are my top highlights of 2019 that reflect how we're working towards quality Early Learning in California:
We connected policy and practice…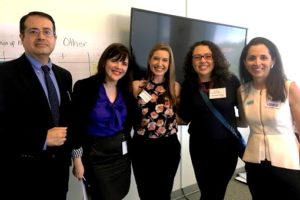 I am truly inspired by the partnership that's been cemented through the biannual meetings we host with California's Department of Education to support the state's Dual Language Learner Professional Development (DLL-PD) Grant Project. Our DLL-PD Convenings in Sacramento are designed to provide the six participating grantees with regular opportunities to share about their funded projects with each other and key DLL experts. Their discussions about lessons learned in implementing these projects directly inform the future of professional development for Early Learning teachers' support of DLLs in California. Learn more about our 2019 convenings in May and November, and watch our video about the importance of DLL-focused professional development, part of our new video series on bilingual education.
We fostered Early Learning champions…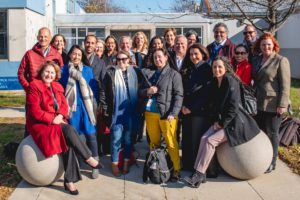 Our 2019 Early Learning Tour to Chicago was a huge success! We brought together a delegation of California's Early Learning champions, including Assemblymembers Kevin McCarty, Eloise Gómez Reyes, Monique Limón, and Rob Bonta, to hear from our peers in Illinois about how they built high-quality systems for infants and toddlers across their state. The visit emphasized the importance of being united in supporting children in their earliest years: in Illinois, Early Learning operates as part of an integrated cross-sector approach alongside home visiting, health, and mental health. Read more about what we learned in Illinois.
We identified policy priorities…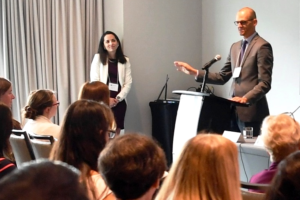 We love to learn from other states and collaborate. Our spring Early Learning Panel Discussion was an opportunity for us to learn more about the essential elements of high-quality Early Learning systems. The event built upon what we learned during our December 2018 East Coast Early Learning tour, and brought together experts and leaders in the field including Assemblymember Kevin McCarty and Senior Policy Advisor for Early Childhood to Governor Newsom, Giannina Pérez. These discussions emphasized the value of strong leadership and buy-in at all levels as well as inter-agency collaboration in order to impact change for Early Learning. Read more recommendations from the panel discussion.
We lifted voices from the field…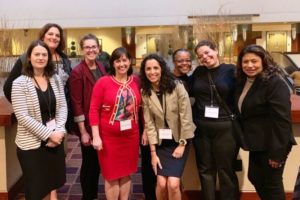 I know what it's like to be an Early Learning teacher — that's where I started my career. The experiences teachers face in their daily work should be at the heart of policy to best support them as they support our youngest children. That's why it's imperative we have teachers at the table when policy decisions are being made. This year, we made it a priority to continue to listen to our teachers and uplift their voices. We listened to their successes, challenges, and feedback in our Teacher Advisory Groups in Los Angeles, Oakland, and Fresno and amplified their experiences through a new video. We also encouraged them to take their voices into the community beyond our meetings; one incredible example of this was the opportunity I had to invite our advisory group member, Celia Gomez, to join the opening panel of The Alliance for Early Success' national conference in Wisconsin. Read more about Celia's experience at the conference. 
Early Edge fights for the youngest children in California, especially those who are poor and underserved. We believe that every child has the right to the best possible education. 
As we head into 2020, we will continue to fight for quality Early Learning by: 
listening to the voices of teachers, parents, and providers through our advisory group meetings across the state.

advocating for additional funding for DLL-focused training so more teachers have resources to work with our kids and their families.

connecting with Early Learning champions through our cross-state learning tours and visits to exemplar programs in California.  

being the voice of quality so all our kids get the best education opportunities.
My goal for 2020 is to work every day for California  kids and their families so they have better chances to succeed. We have an amazing opportunity in front of us to work with our Governor and the Legislature to make this goal come true. We hope you'll join us as we embark on new efforts to make this vision a reality. 
We wish you a wonderful holiday season and a prosperous 2020.