(Updated June 2, 2021)
Our team is gathering timely updates and resources from state agencies in response to the Coronavirus pandemic. 
Please let us know if you have any questions or if we can provide you with any support. We are here for you. Email us at [email protected].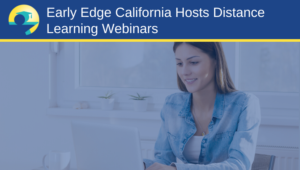 Distance Learning Webinars
The mandate to close schools in California and engage in distance learning due to the COVID-19 pandemic has had a dramatic impact on the way that Early Learning teachers are able to engage with their students. To support the current needs of our teachers, Early Edge California is offering a series of webinars to provide new tools for teaching from home.

View Webinar Recordings
Resources for California Teachers and Childcare Providers 
Department of Labor Guidance for Employers and Workers
The California Labor & Workforce Development Agency (LWDA) and the Employment Development Department (EDD) have prepared guidelines for employers and workers to help prepare for COVID-19.
School Guidance on Novel Coronavirus or COVID-19
Prepared by the California Department of Education and California Department of Public Health, this document is the most recent guidance given to schools and County Offices of Education.
Childcare, Schools, and Youth Programs
This CDC webpage is designated for Childcare, Schools, and Youth Programs to direct providers and organizations to relevant information if they're open, or if they're considering reopening.
Childcare and Preschool Guidance on Novel Coronavirus
These documents are the most recent guidance given to childcare and preschool settings.
The Impact of the Coronavirus on Family Childcare (FCC) in California: A Q&A
Child Care Law Center has gathered and prepared a special Q&A webpage for the FCC community in California.
The National Women's Law Center: Supporting Home-Based Child Care Providers during the Coronavirus Crisis
The National Women's Law Center makes recommendations for improving financial security for home-based providers unable to serve children during the crisis.
Meal Reimbursement/Provision During Disasters
In the event of school or center closures, these resources help ensure access to healthy meals for children. 
Paid Family Leave Resources
---
Kidango COVID-19 Resources
The Bay Area's largest preschool and childcare provider, Kidango, has created resources for the children and families it serves, as well as the organization's staff. Learn more about Kidango's efforts to support its community during this challenging time.
Los Angeles County Department of Public Health's COVID-19 Early Care and Education Toolkit is designed as a resource to help childcare center-based programs and family childcare homes prepare for and respond to COVID-19. Guidance documents, templates and answers to frequently asked questions for the education setting have been selected from local, state and national resources.
Guides from The National Child Traumatic Stress Network (NCTSN)
NCTSN developed multilingual guides for caregivers to help families cope with Coronavirus.
Resources from the Urban Institute
A list of policies, practices, and resources for child care and early education providers.
WestEd COVID-19 Resources for Educators
For a complete list of events, resources, and perspectives to support fall 2020 back-to-school planning and distance learning, visit WestEd's COVID-19 webpage.

---
Additional Resources by Type 
Distance Learning Resources
Family Engagement
Reading Guides and Videos
Social-Emotional Resources
Social Distancing Activities 
---
School District Resources
Updates and Resources from the Los Angeles Unified School District (LAUSD)
LAUSD has developed a special webpage to provide updates to the community along with a one-pager of Early Education Student Resources in English and Spanish.
Resources from the Fresno Unified School District
Fresno Unified Transitional Kindergarten teachers have created a new website housing an extensive collection of resources for young students during this unprecedented time. 

Resources from Oakland Unified School District
Oakland Unified School District has compiled resources for teachers including activities to share with families and self care resources. 
View specific educational activities, tools, and resources, organized by age group/grade level.